The Disability Skills Passport has been developed to enable Service Providers to prove and check their Support Worker's skills and experience.
It benefits Service Providers:
manage worker's online profile in an easy-to-use portal
employ them with confidence, knowing they are skilled and qualified
keep their profiles up to date in the portal in real-time
have total insight into your workforce via easy to run reports
have worker information verified by an independent organisation
have access to expert IT support for help in the portal
The Disability Skills Passport has been developed to enable Participants to check proof of their Support Worker's skills and experience.
It benefits Participants:
instant proof of each Support Worker's skill and qualifications
confidence that you being are supported by competent and capable workers
choice to work only with workers who meet your standards
I'm a Service Provider. How do I register my Support Workers and get them a Disability Skills Passport?
Step 1: Register a business account
Register your business if you have not already by clicking the button below and selecting the option "Register as a Company":
Step 2: Register your business details
Start by selecting the country your business operates in, and search for a valid ABN matching your company name.
Enter your contact details, including email, business address, and phone number.
Select Request Registration to have the business registration verified and have your login details emailed to you.
Step 3: Activate your account
When you have requested registration, you will be sent an email to Activate Your Account. Follow that link and create your password.
This is where you can now login each time you want access to your account.
Click Manage and then find and select the Disability Skills Passport tile, as shown below: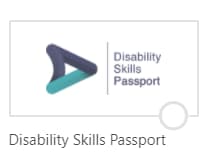 Clicking this tile from your dashboard will take you to the Disability Skills Passport portal, where you can now register your workers.
Step 4: Login and add workers
From the dashboard Manage Roles and then Add New Worker. From here you can enter and save their personal contact details, address, phone and email.
Be sure to avoid using generic emails or phone numbers as your workers will need this for notifications and to receive their eCard.
Invite workers to complete their own registration
Select Manage Employees if you would like to give a worker access to manage their own profile, including their roles and competency documents. Choose their name, and click Invite Employee. An email will be sent to the worker so they can access the Disability Skills Passport portal.
Step 5: Pay for Disability Skills Passport
Pay for passports via credit card in the secure portal. Passports cost $77 for first registration, then $55 each year after that to maintain subscriptions.
Step 6: Select worker roles
If you prefer to register your own workers and complete their profiles, choose the worker's name to Add New Role and choose their site, which refers to the state(s) or territories they may work across, and work role/s.
Step 7: Upload worker documents
Your selections will determine the competency documents, such as training certificates, which need to be uploaded to prove your worker is qualified to complete the chosen role/s.
All mandatory competency requirements for each role must have evidence (documents) uploaded against them. Check the business rules for more information on what is required.
Pegasus will validate all information provided and uploaded.
I'm a Service Provider and I'm interested in the Passport. How do I get more information?
Pegasus would welcome the opportunity to speak to you about your requirements, challenges and opportunities to leverage the Disability Skills Passport to support your qualified workforce. Contact us today: serviceproviderenquiries@pegasus.net.au