A disability Support Worker supports a person with a disability (Participant) to reach their goals and engage with the community, while meeting their support needs. Disability Support Workers help with community inclusion, independence, decision-making and the personal choice needs of the Participant.
The Disability Skills Passport has been developed for Support Workers:
to provide proof of your skills and experience, in one, secure place
be linked to your employer (Service Provider)
allow you to work at multiple facilities, quickly
have your profile information independently verified
have access to expert IT support for help in the portal
How do I get my Disability Skills Passport?
There are two ways to get your passport:
If your employer is participating in this program, congratulations! You will be issued a Disability Skills Passport.
If you wish to register yourself in the program and get your own Disability Skills Passport, you may follow the steps below.
Step 1: Create your profile
Create your profile by clicking the button below and selecting the option Register as an Individual:
Complete the Individual Registration form, including your name and contact details (email, address, phone number). You must also upload a photo of yourself for your profile and Disability Skills Passport.
Step 2: Pay for your Disability Skills Passport
Pay for your passport via credit card in the secure portal. Passports cost $77 for your first registration, then $55 each year after that to maintain your subscription.
Step 3: Activate your account
When your registration is complete and payment successful, you will be sent an email to Activate Your Account. Follow that link and create your password.
This is where you can now login each time you want access to your profile.
Click Manage and then find and select the Disability Skills Passport – Individual Worker tile, as shown below: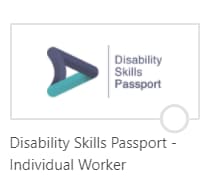 Clicking this tile from your new dashboard will take you to the Disability Skills Passport portal, where you can now complete your profile.
Step 4: Select your sites and role/s
From the dashboard, select Click here to add roles and choose the work role/s you will be undertaking from a list. You may also select the state/s where you work.
Step 5: Upload your documents
Your role selection will determine the documents, such as your training certificates, which need to be uploaded in the system to prove you can complete the chosen role. Once you submit, this information will be verified by Pegasus.
Step 6: Keep your profile up to date
At any time, you may login to the Disability Skills Passport portal via Pegasus Gateway and update the information in your profile. That includes renewing certificates or adding any new competencies or training you may complete.
How do I view and share my Disability Skills Passport?
The Pegasus Onsite Mobile App allows you to share your Disability Skills Passport right from your mobile device. Your passport includes your work roles, competencies, and training to demonstrate your skills and compliance. You can even show specific documents.
Step 1: Invitation to download app
You will receive an email invitation containing a link to the Onsite Mobile App. The email will be sent to the address entered against your profile when you were registered for a Disability Skills Passport. If you have not received your email invitation, contact your employer or Pegasus.
Step 2: Download the app
Download the Onsite Mobile App to your device and login to your account. You can create four-digit pin for easy access.
Step 3: View and share your profile
Now you are logged in, you can show your profile to employers, service providers and participants, or review your profile at any time by tapping your photo or name in the app.